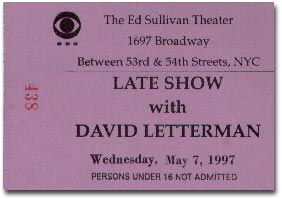 My ticket stub from the May 7th, 1997 taping of the Late Show.

On Wednesday, May 7th, 1997, I, Bill Lehecka, made my first trip to to see the "Late Show with David Letterman" at The Ed Sullivan Theater. Before this trip, I had been a fan of Dave for ages. At least 12 years, I think. When I first heard of receiving these tickets, I was very excited. At the time I was attending the University of Dayton. I had received two other sets of tickets for April 3rd and April 17th, but since I was in college, I couldn't attend. For April 3rd, my two sisters attended. April 17th's tickets were a computer error and a nice souvenir to keep.

Back to my story, for my first venture to the Ed Sullivan theater, I took a very dear friend of mine, Kim. It would be the first time we saw each other after going to our respective colleges. She was extremely excited to go. Well, I get to her house around 11 AM. Her mom took us to the Huntington Train station to get the Long Island Rail Road (LIRR) into Penn Station. Once we got to Penn Station. I was kind of confused. You see, my sisters told me the drill to taking the 1 or 9 Subway uptown to 50th and Broadway, but I forgot how to do it. Turns out Kim had to hail a cab to get to the Ed Sullivan theater. At this point I was kind of hyper because I wanted to get to the theater before 2 PM to get our tickets numbered. We were dropped off at the theater at 2:10 PM after a typical Cab Ride (We had to give this guy directions). We were greeted with a long line. I immediately thought "Oh Great, we're in the balcony." Finally we got to the page who gave us numbers 125 and 126. Now at this point I didn't know where we would be, but I thought it was pretty good. Kim and I then headed off for lunch.

Kim's mom made the suggestion that we go to this place off Broadway called the "Stardust Diner" for lunch. It turns out it was a great place to get lunch! Lots of good stuff. Kim and I then headed off to the Hallmark Store to get assorted birthday cards for our parents. Actually, no, I bought a Mother's Day card since it was coming up so soon. After this, we headed back to the theater and began our wait in line.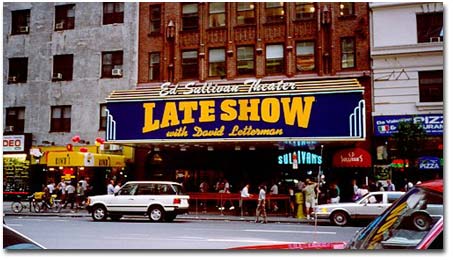 Outside the Ed Sullivan Theater
Kim and I were placed in line behind these two ladies who were really nice. We yacked away talking about assorted things. Throughout CBS pages were giving us instructions while inside the theater, especially to go to the bathroom NOW! (Editor's Note, For all Three Trips I made, I never used the bathroom ONCE!) We also had no idea who this guy (Eddie Brill) was who was outside saying "I'm your warm-up comedian tonight." I made the comment "He's trying to kiss up REAL early." After waiting for at least an hour, we finally headed single file into the theater. My first thought when I viewed the theater, well, two. 1) "It's cold in here, well, not THAT bad!" 2) "Wow, is this a model of the set... It's so small!" We had pretty good seats. 5th row aisle on the band side. I was so excited, making the comment to Kim "Wow, this is really cool, isn't it?" Well, after seating everyone, the preshow (As I call it now) started.
Here's how the 5/7/97 preshow went. Keep in mind it could be different for when you make the trip to the theater. Eddie Brill first introduces a video called "Dave Talks to Kids." It was a hilarious video. Then Eddie makes a couple of jokes and giving us once again the ground rules for the theater (No catcalling, whistles, banners, etc.). After the jokes, he introduces the band. The band comes out without Paul and starts to play. My first impression of the band "Damn their loud, but they're good!" Then Paul saunters out. Everyone goes nuts. Of course he comes out near the end of the song. However, they did another song. The band can really wail. However, my ears has this tingling, ringing feel to it. It was uncomfortable, but bearable. After this, Eddie Introduced the person I was waiting to see in person... David Letterman.
When Dave ran out, I felt compelled to just stand and give a standing ovation. People slowly followed suit. The first words out of Dave's mouth. "No, no, no, don't give me that bullshit standing ovation. The people in the balcony, they didn't stand up. We put the smart people in the balcony." The atmosphere just turned electric. Dave began his part of the preshow talking about his birthday being 6 to 8 weeks ago. He also made the promise that he would fight everyone in the studio audience tonight. He had time for one quick question. He picked this guy who wanted to read a poem. the band began to play and Dave was interrupted. The show began.
The show had a great lineup: Mike Myers, Danny Aiello, and the Crossbows of Death. Dave's monologue started out by stating he beat up a poet before the show (camera goes to the guy). The comedy bit was coincidentally enough Mother's Day cards. Kim and I found this to be funny. The show went on pretty flawlessly. I made the comment to Kim during the commercials "Now this is why we came!" Every time Dave just talked to his staff at Home Base (His Desk). the only weird thing that happened this night would be during the crossbows of death. While setting up, one of the protective walls fell over, causing a delay. Dave was seen after the commercial break saying "Everything's OK." At this point in the show, Kim and I noticed that the studio was getting excessively colder. Maybe we just noticed it. Who knows. Well, the show ended, and we were let out of the theater. It was a fun time. I said after this show at the time "This was one of the greatest times of my life. the only way the May 14th show would be any better is if I get on TV." Prophetic words, I tell you.