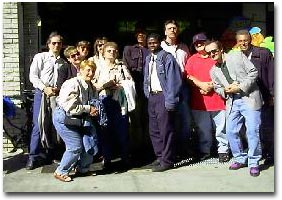 Here's a sampling of the group that came to see Dave.
Not pictured are Traci, Marilyn, and her husband.

On Thursday, May 20th, 1999, I, Bill Lehecka, made my eighth trip into the greatest city on earth to see the "Late Show with David Letterman" at The Ed Sullivan Theater. This trip I was invited by Traci from Hoosierland for an AFL group get-together. Actually, we were SUNY alumni, so back off!! :-) Anyways, I was invited to join the group, and I had to leap at the opportunity. I'm thinking "Hey, they're meeting at McGee's after... Cool, I'll just catch a train, go to the show, enjoy, then go and enjoy myself there." Well-hel-hel... let's say things didn't go as planned. Let's jump into the time machine and take it for a spin...

May 19th, 1999: Since I've relocated from Long Island, NY to Queensbury, NY (about 200 miles away from NYC) I made my trip down to the Island to stay for a couple of days. I decided to take the Teconic. What I didn't know was that the heavens decided to open up and one of the biggest rainstorms I could remember hit. Rain must have been coming down in buckets. Driving on the Teconic in the rain ain't a smart idea either, since it floods easily, so I spent the trip driving slowly to avoid hydroplaning all the way. A trip that usually takes four and a half hours took nine. But wait, there's more...

May 20th, 1999: Now after that episode, I'm rested, I'm relaxed, I'm ready to go. Well, guess what? I miss my train into the city. I couldn't believe it. Some people actually obey the speed limits... the nerve... :-) So I had to make a decision: Should I not go into the city and see the show and quite possibly dissappoint fellow AFL members, or do one of the most insane things I've ever done and (gasp) drive into Manhattan to catch the show? I thought long and hard about it, and I made the decision. You live only once, this is the last summer vacation of my life, and the fellow AFLers need me. Bring on Manhattan!

Now for those who have read my prior trip reports, you know that in the past I would have never considered driving into New York City, and that I leave that task up to my sister Mary, who was born to drive there. Well, I figured I had to do it at least once in my life, why not try it? So I did it. Now for those who would like to know, there's a simple rule when driving in NYC: Every Person for Themselves... I don't even know why there are street markers on the road. It's kind of a waste of time. I slowly got the hang of it, and quite frankly, I kind of enjoyed it. In fact when I left, I put my top down on my convertible, and some nice ladies decided to check me out... Well, let's leave it at that, shall we...

It was now 3:45 PM, the time Traci said we should arrive. I ducked into a parking garage quickly and parked. I walked over to Ferrara's, our designated meeting place. I thought I caught the group in the place, but it turns out I just talked to a bunch of people, and I think I creeped them out. The search for the group was on. I asked a page if our group checked in, and lo and behold, they were in line. I went to the end, and then I noticed a familiar person up ahead. It looked like Traci from her website, so I decided to check it out. I asked if this was the SUNY group, and said "I'm Bill!" I finally met up with them, woo hoo!

We entered the theater, and gave our names to the pages. The pages verified our names on the list, and then we were given tickets. We then made our way up to the front when we met the new audience coordinator (Jennifer? She looked like Annette Funicello to me...). She asked if we were big Dave fans and if we were excited to be at the show. She gave us the rundown on the rules, etc. She told us to gather at the Roseland Theater at 4:45 PM to line up. Now from what Traci had reported, there is this new "Red Dot" system that I did not notice at this taping. I found it suspect, but when I get a chance to go to the show again, I'll investigate further. From what I heard, the Audience Coordinator is looking for normal people to be seated in the first few rows, most likely to create a "Beautiful People Section" as I like to call it (Read my Third Trip Report for the first instance of this process I recorded). This process kind of disturbed me because it seemed unfair to the other people there to see Dave. I could understand if the red dot system was for people who were really overly enthusiastic about Dave, but to reserve it for "normal looking folks" kind of rubs me the wrong way.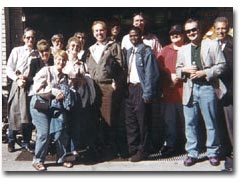 Alan Kalter stopped for a sec to be in our shot.
After getting our tickets numbered (which now you cannot keep and are made from a cheaper and less thick paper) our group headed out for a breather. Some went into Rupert's for a nosh, others just hung out. Our group decided to get a group picture in front of Ruperts (as seen above). Alan Kalter was walking by, and he got into our group shot, (shown on the right, courtesy of Traci's page). After the picture, we headed over to Roseland. On our way, we caught a glimpse of Fred the Intern and Corky Ramirez. We were lined up by those stingy pages. The pages and audience coordinators got up on the stage of the Roseland Theater and basically conducted a high school type of pep rally. They gave instructions on how to act inside the theater, and the one that really struck some in our group, especially Brad Hill, found it disturbing that the pages instructed the audience members to laugh at anything Dave said. I mean, hey, it's Dave, he can't be funny all the time.
During the wait inside Roseland, a LS Staffer approached Marilyn and her husband. They looked like viable candidates for Know Your Current Events.... Hold on, Chester?!?! They preselect possible candidates for Know Your Current Events? Yessiree Bob. It's a rather interesting idea, but hey, you can't have a possible contestant freeze up on his or her story, now can you? The staffer said she would come back and ask if Marilyn's husband was willing to volunteer. She came back, and they agreed. Marilyn, her husband (A Connecticut State Trooper, I might add), Traci, and her guest went off, leaving our group. This was only the beginning of the partitioning of our group.
Our group was finally led into the theater. Here's the thing... They split up our group! Me and two of the group members sat on the floor, the others sat in the last row of the balcony! Now I could get into a whole argument about the unfair seating for the other group members, but what I was more disturbed with it the partitioning of our group. I would have preferred that our group stayed together, but it was not meant to be. The preshow routine began...
Eddie Brill, the excellent warm-up comedian, came out to introduce a comedy compilation clip from the fifth anniversary show. It was a humorous clip. Eddie would then discuss the rules of the theater, and said that Thursday night is their favorite night because of Know Your Current Events and Know Your Cuts of Meat. The other thing Eddie mentioned was the audience shot during the middle of the show. He said to not go nuts, because you'll be on TV, and you don't want to make an ass of yourself. Eddie introduced the band, like always, and they played the same songs, as always. Then Eddie introduced Dave.
Dave came running out of the theater. I tried to start a standing ovation, but to no avail. You see, Dave deserves one for how he's handled himself lately. He's been amazing. Dave took a question from a guy who asked about Dave's elective surgery. The show began. The show goes as planned, then when the second KYCE contestant comes out, guess who gets their mug on camera in the background? Me! I thought that was pretty cool. When I get a vid capture of it, I'll post it. I'll also post the vid cap of Traci and Marilyn and the rest of the folks tht got on.
The commercials came, and what's this? They played clips of old shows on the screen while Paul was playing. Geez, can't Paul get everyone's undivided attention? Geez... Other musings: After Helen Hunt's first segment, Paul played Nine Inch Nails' "Animal," and if you know the lyrics to the song, you know how awesome that was. Dave received from the second KYCE contestant a ring made from a $1 bill. He gave it to Helen Hunt. When Courtney Love wanted one, another was made for her, and Dave before the commercial gave it to Love. She was estatic. The whole show (Helen Hunt, Courtney Love, and Hole) was great. There was no top ten list, and there were no KYCE or KYCOM questions. It's turned into a damned talent show!
The show ended and everyone left. Now I would have stayed for McGee's, but I was running up a bill in the parking garage, so I had to leave. I apologize to the whole group for not coming, because I know I would have enjoyed it. It was a great trip, and I enjoyed meeting all of the AFLers. Until next time sports fans... Oh wait. One word of advice... DON'T DRIVE IN MANHATTAN! :-)