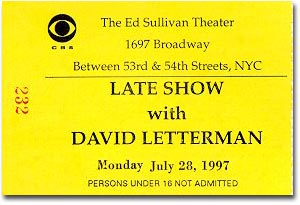 My Ticket to the Late Show on July 28th, 1997
Already going to the show twice, I, Bill Lehecka, went to see "The Late Show with David Letterman" for a third time on July 28th, 1997. There were a lot of different situations surrounding this trip. Rather than working at my father's Ford dealership on web pages, I was instead working at Camp Alvernia in Centerport, NY. It was at this time I realized that I'm working at a job that totally undermined my computer skills and something I should try to get out of. Don't get me wrong, I love the kids, but the situation there is horrible. With me on this trip was a friend of mine who also works at this camp, Alex. We both arrived at work and then left work early to go to Huntington Train Station to take the train into Penn Station.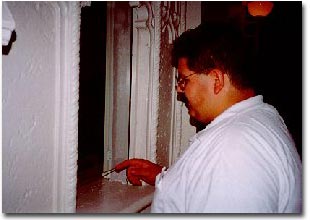 For this trip, I had to stop by the ticket office inside
the theater to get my tickets numbered.
For this trip, I didn't have the excitedness of the first two. I knew what was going to happen, and basically the whole time I was near the theater or enroute I was explaining what would happen. I did have the hope that I would get on stage with Dave this time since I got on TV last time, but I tried not to get my hopes up. We got to the city at around 11:40 AM (earlier than the first two trips in hopes of a different seat in the theater) and got to the Ed Sullivan Theater at 12:00 noon. I knew from the AOL Letterman chat room that the Late Show for the time being is numbering tickets beginning at 12. I didn't know if anyone else knew this. I arrived to the ticket window (Which is featured to the right here) and got the numbers 9 and 10. I figure "Yes! We're right near Dave's Desk!!!" Alex and I left the theater and started to wander around New York City.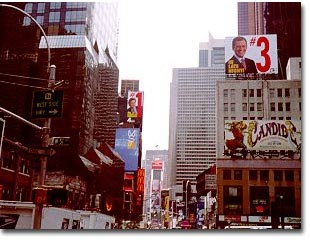 The Famous Dave is #3 billboard, next to Leno's.
For this trip, I decided to take more pictures based on Letterman things. The first picture I got were the dueling billboards as shown On your left:
I love this picture. Jay's billboard is so puny compared to Dave's. Granted it proclaims Letterman as the number 3 man in Late Night, but who's funnier, eh????
Alex and I then made our way to my regular place, Ellen's Stardust Diner. If you're in the city, I cannot recommend another place any higher. They have affordable prices, excellent food, and great service. No, they didn't pay for this, but they deserve it. The milkshakes are great!!!
After lunch (the time was around 1 PM), I decided we should go to none other than.... NBC! We went to 30 Rockerfeller Plaza to see the surroundings. It was a great way to kill time. We stopped off at the NBC store and got some cool stuff. It also prepared me for when I will be going to see Conan O'Brien (August 12th, 1997). I liked the store. Alex and I wanted to go on the NBC tour, but it was sold out. Oh well. We left NBC with some nice merchandise.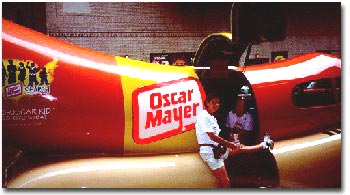 What's this? The Oscar Meyer Weinermobile?!?!
After wondering where to go next (We had two hours to kill) we decided to go to the Roy Rogers/Dunkin Donuts combined store to hang out. Since it was hot out, I brought these fans with spray bottles attached to them. We stayed in the store for about two hours. Alex and I traded stories to each other during the wait. While waiting in the store, people with Oscar Meyer shirts on were coming up to go to the bathroom. They commented on what a great invention our fans were. Since we could tell these ladies were hit, we cooled them off by spraying them with our fans. Turns out they brought the Oscar Meyer Weinermobile with them in hopes of getting on the Letterman Show. They gave us stickers and whistles to blow during the show, but their effort was squashed by Late Show personnel.
Just when 4:00 PM rolled around, I needed to get the Obligatory Ed Sullivan Marquee Shot. So I did: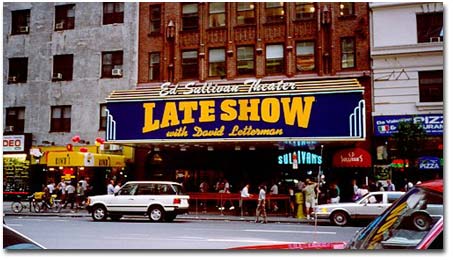 The Marquee of the Ed Sullivan Theater. Isn't it attractive?
Then, I needed to be next to the Ed Sullivan marquee. Alex took this shot on the left, and as you can tell, a truck almost cut off the marquee.
Now we went in line. We oozed pride as we were numbers 9 and 10 in line. While waiting, people were asking questions as to what to expect, so I gave them answers. I told them about my last trip when I got on TV and everything else that to me was standard procedure. It felt so good. While waiting on line, I got this random picture. What I found funny was that Alan Kalter was walking up and down the streets, and no one recognized him. Not even one yell of, "Hey Alan!" Below is a picture of Eddie Brill and an attractive page, Alan Kalter, and a guy in dark glasses and mustache that is Bill the Guard, Letterman's personal bodyguard.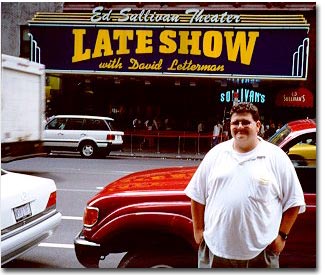 I just had to get a picture of myself in front of this
building, well, at least with the marquee in frame.
While waiting, I noticed something weird was going on. People were taken from the line and were entering the theater. This was way after bathrooms were closed. I assumed they were part of a skit or something. I also noticed they were all attractively dressed. I was just hoping they weren't getting preferential treatment, but sure enough, when we entered the theater, they were seated first. It really steamed me up since I got to the theater at 12:00 PM to get different seats and people who came later were seated first. Turns out I sat in the same general area as last time: Right in front of the band, third row. Don't get me wrong, I'm not complaining, but I thought it was unfair.
Well, the show began with Eddie Brill introducing "Dave and Paul go Golfing," a different video from last time. I liked this video. It was a change of pace from the Dave talks to kids. After the video, Eddie seemed to do his stand-up routine. Something tells me he did it because he got bumped the show before (on 7/24/97 aired 7/25/97) and just wanted to get it out of his system. Well, he does that, then he introduces the band (With the return of Will Lee. I never saw him before tonight) and then introduced Paul. One thing I definitely noticed: Will Lee is an excellent bassist! I loved him. Then Dave comes out. He starts to ask for questions, and my arm is waving wildly. I was going to ask if I could throw blue cards out from behind his desk, but no such luck. He instead picked this woman who went on and on about a picture he took with Dave which her head was cut off. Then she showed Dave a picture of him with his Daughter. Dave goes "Your mom's embarrassing you, huh?" Well, the woman asked for a retake. Dave says "No... Well, let me rethink that... Not a chance in hell!!!" Everyone cracked up. Turns out that picture never happened (Thank God), but Dave mentioned her in the monologue (It's embarrass your daughter night!!!).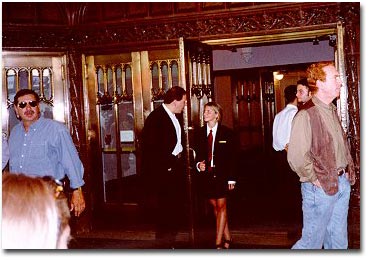 Head of Security Bill DeLace is on your left, Eddie Brill and a page
is in the middle, and Alan Kalter is on your right.
The show began after this. I was mildly disappointed, but no matter. The one thing I remember about the show: It was about 65 degrees in the Theater, warmer than I remembered it. Each time during the commercial breaks and when the camera wasn't on Dave, he said "It's too warm in here... It's too hot in here." For this show, Leonard Tepper and Rupert Jee did their annoy everyone in NYC game. Jennifer Aniston was on (Ten times more attractive in person, but seemed like an air head.) Brian Regan was the Comedian (Very funny!!!) And William H. Macy, who gave Dave a gift of a box carved by Macy Himself. Throughout the commercial break, Dave just kept staring at it, genuinely touched by the gift. The show ended, and we were let out. It was an OK trip this time, but the only way another trip will be better than May 14th, 1997 is if I get on TV again.
P.S. After I dropped my friend Alex off, on the ride home, I saw a beautiful site. Here's one of the pictures I took of this sunset. Good night everyone!!!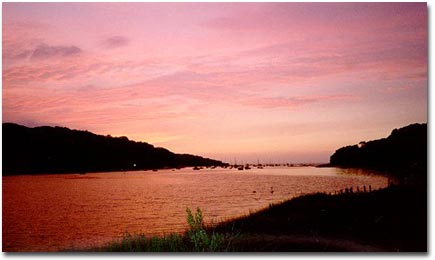 A beautiful sunset to end my day