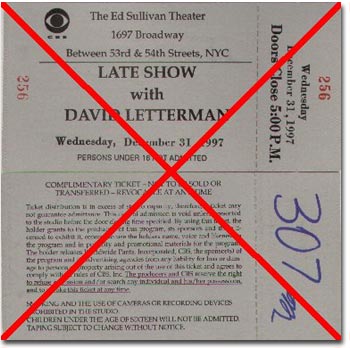 My tickets to the New Year's Eve Show, already numbered. I didn't get
in because the show overbooked by over 300 people.
Before reading this, I must clarify a couple of things. At the time of this now infamous incident, I was very upset about what happened, not to me, personally (As you can tell with all of these trip reports), but to the others who had never even seen Dave's show and came from long distances. Time has passed, and I am not as bitter as I was before. Things have been "smoothed over," and the results of that smooth over will be described later near the beginning of the Spring. I don't want to discuss it now, but it will be revealed in the coming months. Now on to the trip report:
On December 31st, 1997, I Bill Lehecka, was primed to see my fifth taping of The Late Show with David Letterman at the Ed Sullivan Theater. For this trip, it was bitterly cold. I took along my sister Anne-Marie, the same as from my Knicks Trip Report (No Longer Available). The trip started off the same as usual, going into Huntington, catching the train into New York City. Everything went smoothly, until we reached the city.
First off, we didn't get to the city at the time I wanted to go. I had to run other errands before I could catch the train. This involved setting up my defensive driving course appointment to keep my car insurance down. I got to the theater a little before 3 PM. Once inside the theater, a page warned us that there may be an overbooking, and we may not be able to get in. I didn't think much of it. I was wearing a suit and tie, I was primed, I was ready to go. A-M and I went to a local eatery and got hamburgers and waited.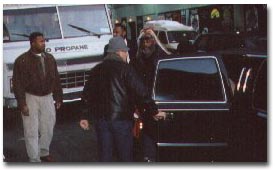 Ceorge Clinton arrives at the theater.
We got back to the theater at 4:10 PM and were placed in line. It was freezing cold out there. It must have been 20 degrees. While waiting near the 53rd street entrance, A-M and I had a nice conversation with this couple from New Jersey. We were all excited to get in. While waiting, we caught eye of one of the guests, George Clinton, pictured to the right.
Then all of a sudden CBS pages start handing out papers. It turns out they overbooked, like they feared, and had to turn people away. Now I was naturally upset, waiting out in the cold for so long, etc., but stories came out that people who had numbers 162 and lower were turned away. That translates to almost 300 people turned away who had tickets. People like myself got really upset, but I'm totally past that now. The show didn't air, even, except on the West Coast, so it was some redemption. This story continues, my friends. To be continued...